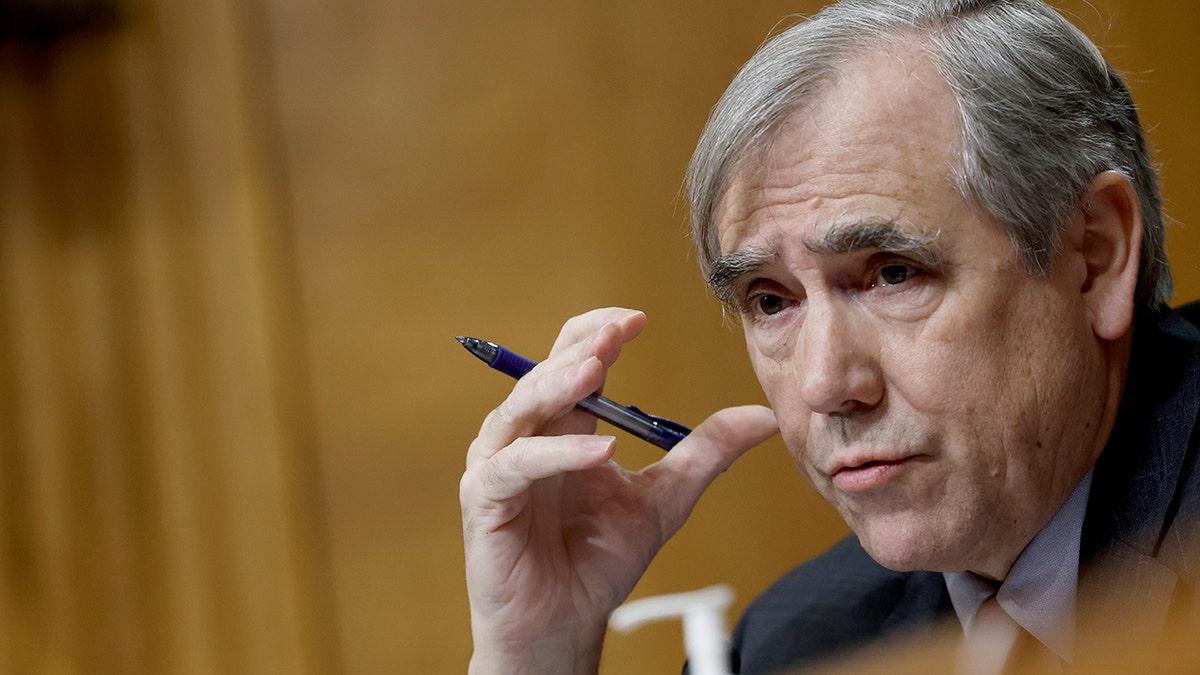 Sen. Jeff Merkley, D-Ore., on Monday became the second Senate Democrat to urge a cease-fire in Israel's war against the terrorist group Hamas.
'I am calling for a ceasefire — a cessation of hostilities by both sides,' Merkley posted on X. 'To endure, the ceasefire and the following negotiations must accomplish other essential objectives, including the release of all hostages and a massive influx of humanitarian aid.'
Merkley joins the number two ranking Senate Democrat, Sen. Dick Durbin, D-Ill., and several far-left House lawmakers, including Rep. Alexandria Ocasio-Cortez, D-N.Y., and Rep. Ilhan Omar, D-Minn., who have each called for a cease-fire in Gaza.
Durbin said earlier this month that both sides must agree to any cessation of hostilities and that Hamas must release every hostage taken captive in the Oct. 7 terror attacks on Israel. More than 1,200 Israelis were massacred on that day when Hamas terrorists infiltrated the country from Gaza and indiscriminately tortured, raped and murdered innocents. Some 240 people were taken hostage back to Gaza. 
Israel responded to the attacks by declaring war on Hamas. The Israel Defense Forces has since bombarded the Gaza Strip with airstrikes and conducted ground operations to free hostages, wipe out the terrorists and erase their capability to attack Israel.
Thousands of Palestinian civilians have been caught in the crossfire. Israel and U.S. officials say Hamas hides terrorist military targets behind civilian infrastructure including homes, schools and hospitals. The Hamas-led health ministry in Gaza claims more than 12,700 Palestinians have been killed since the war began, but Hamas does not distinguish between civilians and fighters, and those numbers cannot be independently verified.
With casualty numbers rising, United Nations officials have declared a humanitarian catastrophe in Gaza, and world leaders have demanded an immediate cease-fire. Israel, with support from President Biden, has so far refused these demands, insisting that an end to hostilities would be surrender to Hamas. 
In a statement released on Medium, Merkley condemned Israeli 'de facto annexation' of Palestinian territory and said that while he supports the Jewish state's right to self-defense, he is 'deeply disturbed' by how Israel has conducted the campaign since Oct. 7. 
'Israel has unleashed a bombing campaign on Gaza of phenomenal ferocity. Israel defends this campaign as necessary to strike Hamas wherever necessary. But the impression the world has been left with is one of indiscriminate bombing,' Merkley said.
'Air strikes have leveled much of Gaza City and hit crowded refugee camps, schools, hospitals, and even shelters operated by the United Nations,' he continued. 'The result is mass carnage.' 
Comparing Israeli actions to 'massive mistakes' made by America after the September 11 terrorist attacks, Merkley warned that Israel is losing international support and said weeks of cease-fire are needed to evacuate Palestinian civilians, deliver humanitarian aid and allow foreign citizens who wish to leave the territory an opportunity to do so. 
'Hamas must release all the hostages without conditions and lay down their arms. And Hamas, which continues to defend the savage slaughter of Israeli citizens on October 7th and advocate for the obliteration of Israel, has to go. It can no longer have operational control of Gaza,' Merkley said. 
Meanwhile, negotiations between Israel and Hamas on a potential cease-fire and hostage release deal are in their final stages, sources tell Fox News.
The deal could include a potential hostage release as well as a temporary end to fighting to get humanitarian aid into the region. Israel's war cabinet was scheduled to meet at 11 a.m. ET to discuss a possible deal.
'It does appear the final details are being discussed toward a cease-fire that would end fighting in Gaza for up to five days and include the release of some hostages,' Fox News' Trey Yingst reported from Israel Tuesday afternoon.
'We understand, according to Hamas leader Ismail Haniyeh, that a deal is approaching,' Yingst reported. 'Reports indicate it would include the release of dozens of Israeli and foreign citizen hostages. The hostages are expected to be only women and children and would be exchanged for [Palestinian] prisoners being held in Israel.'
Mark Regev, the senior advisor to Israeli Prime Minister Benjamin Netanyahu, confirmed Tuesday that any cease-fire would be temporary. 
Fox News Digital's Lawrence Richard and Fox News' Trey Yingst contributed to this report.
This post appeared first on FOX NEWS