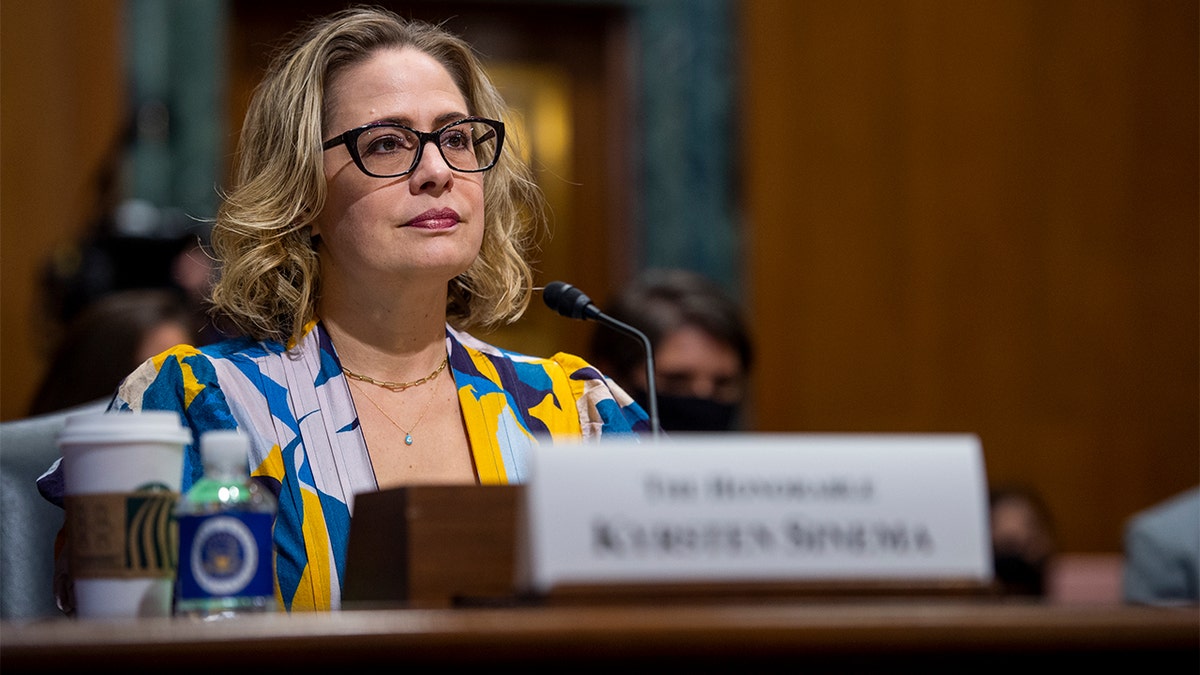 The National Republican Senatorial Committee (NRSC) launched attacks against Sen. Krysten Sinema, I-Ariz., and Rep. Ruben Gallego, D-Ariz., on Monday in a new ad.
The 30-second ad labeled Gallego as 'rotten Ruben Gallego' and said he had 'abandoned his wife when she was nearly nine months pregnant, then married a D.C. lobbyist.'
Then, it slammed Sinema – a former Democrat now registered as an Independent – claiming she 'voted with President Biden's agenda 100% of the time,' including the administration's progressive energy initiatives and the COVID-era American Rescue Plan.
'Deadbeat Dad, or liberal Democrat? Arizonans deserve a better choice,' the ad, titled, 'A Choice,' concluded.
In a statement to Fox News Digital, NRSC spokesperson Mike Berg said, 'Divorcing your wife when she is nearly nine months pregnant is a low-life move that really speaks to Ruben Gallego's character.' 
Gallego divorced his wife, Phoenix Mayor Kate Gallego, in 2016. Politico reported a source close to Gallego said he and his ex currently have joint custody of their 6-year-old son.
In a 2016 post, Gallego and his wife both announced the divorce on their Facebook pages. 
'It is painful when any marriage ends, and it is not something that I ever wanted or expected,' Kate wrote. Gallego shared her post and added 'Kate and I hope to keep this a private matter and appreciate your respect for our privacy.'
Berg said the committee plans to run more ads 'exposing the truth' about Gallego – who could likely become the Democratic nominee in the race – until Election Day. 
The ad comes as an internal NRSC polling showed Sinema currently drawing support from more Republican voters than Democrat voters, according to a source familiar with NRSC strategy.
Sinema has not announced whether she will run for re-election yet, but Republican strategists are on the offense. 
'National Democrats are fighting a lose-lose civil war over who they'll make their standard bearer: Rotten Ruben Gallego or liberal rubber stamp Kyrsten Sinema,' NRSC spokesman Tate Mitchell said in a statement.
Fox News Digital has reached out to Gallego and Sinema for comment. 
In a fundraising email, Gallego's campaign called the ad 'baseless' and a 'deeply personal attack.'
'If attacks like these go unanswered, Kari Lake could get the edge on us,' the release said.
According to reporting by Politico, Gallego's memoir details how PTSD from his service as a U.S. Marine in the Iraq War led to the destruction of his marriage.
The stakes are high as Arizona's Senate seat race could potentially shift the majority leadership in the upper chamber if a Republican is elected.
This post appeared first on FOX NEWS